Ovry® Ovulation Test Strips are great if you want to: conceive, avoid pregnancy, improve cycle monitoring and predictions, and/or become more in tune with your fertility and hormones. Ovry® tests are compatible with all test-interpretation and cycle tracking apps, including the Premom App.
| | |
| --- | --- |
|  Detects 2 most fertile days |  Includes FREE cycle tracker |
|  Over 99% accurate |  Low cost per test |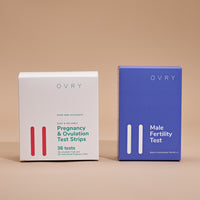 Trying to conceive?
Save 20% on all the essentials you need to track your fertility and start your journey to parenthood.
When To Start Testing

Not sure when to start testing? Click here to use our ovulation calculator.
Discreet Shipping

Don't want them to know?

We keep it discreet. Credit card charges will show as "SP*CORDUROY". All orders come in unbranded shipping envelopes.
How many ovulation tests do I need?

The number of ovulation tests needed to detect a positive result each month, will vary depending on the users cycle regularity and how accurately they are able to determine when to start testing. We recommend using our Ovulation Calculator to determine the best day to begin testing each month. Assuming a user goes through two tests a day, most people should be able to detect ovulation within 5 days from when they begin testing. So on average 10 tests per cycle. That said, this number can vary widely from user to user, which is why we offer different size formats for the boxes.
View full details
Detects 2 most fertile days

Discreet shipping, always

Includes FREE cycle tracker
Collapsible content
Why You'll Love Our Tests
Ovry is able to offer high-quality and cost-effective tests because:
What is ovulation and why is it important?

Ovulation is when a mature egg from your ovary is released into your fallopian tube, and is available for fertilization by sperm. For a healthy woman during her reproductive years, one egg will mature and be released by one of the ovaries approximately every month. It is important to be aware of ovulation because this is when a woman is most fertile and has the highest probability of conceiving. Note: Because sperm can live inside a woman's body for up to five days, if intercourse occurs three or four days before ovulation there is still a chance that the egg may get fertilized.

How do ovulation tests work?

Ovry Ovulation Test Strips work by detecting the presence of the ovulation hormone, called luteinizing hormone (LH). Levels of LH surge when the mature egg reaches its final stage of development indicating that the egg will soon be released from the fallopian tube (i.e. ovulation). Since women are most fertile the day before, and the first day of ovulation, a positive result with an Ovry Ovulation Test Strip indicates that an LH surge was detected and that for most women, the greatest likelihood of conception will occur throughout the next 48 hours.

Not sure if these tests are right for you? Want to know the best time of day to test? Visit our Frequently Asked Questions page for more useful tips.